This post contains affiliate links. When you purchase through these links, I make a percentage at no extra cost to you.
When I was a kid, one of the great joys of Easter morning was waking up to a basket of goodies after our 40 day long Lenten Fast.
My grammy was our Easter bunny, and she always went overboard. Mountains of candy, small gifts, and way too much of Easter grass; pinatas, egg hunts, and always a ham.
As I grew older, my mom continued the Easter basket tradition with us as "big kids." Only, instead of baskets, she swapped over to Easter paper bags.
They were smaller. They were simpler.
And believe it or not, I loved them even more than our beloved baskets.
My mom would print out a picture of the Resurrected Jesus and glue one to the front of each bag.
The bags were filled with small treats and religious gifts.
My favorite holiday traditions are the ones that my parents tweaked to make them more centered on the Catholic Faith.
As a mom, I like to focus on passing on these simple but meaningful traditions to my kids. The ones that are tweaked to be less commercial and more faith-filled.
I want to share some amazing (easy!) ideas with you for an easy Easter paper bag you can put together for your Catholic kids this year.
1. Easy Homemade Easter (Paper Bag) Basket
Your kids won't miss Easter "baskets" with this easy Easter Paper Bag idea.
Especially if you buy the extra large paper bags!
Pick one of these images of Jesus, and print one out for each of your kids.
If you slip a new pack of colored pencils in each bag, you'll be all set for a fun and peaceful morning. (More coloring ideas later!)
I scaled this image of the Resurrected Jesus (from Super Coloring) down to half of a standard page for printing.
I absolutely love this stained glass coloring page of the Divine Mercy Image from CatholicArtWorks! Again, I scaled it down to half size to fit nicely on our paper bags.
Alternatively, check out this DIY tutorial if you want to weave your own paper Easter baskets out of recycled paper shopping bags!
Once your Easter paper bag "basket" is ready, fill it with these DIY and printable gifts your Catholic kids will love…
Catholic Printable Toys
Even if you can't get out to the store to pick up a special toy, or don't have time left to order a something from a Small Catholic business, your kids will love these printable Catholic toys.
2. Catholic Saint Paper Dolls
I love these Catholic paper dolls from Andrea of Stella Marigold Art. She has traditional paper dolls, plus articulated paper dolls (with the bendable arms and legs).
I bought Dominic Savio for my son.
And I got these St. Therese ones for my older daughter.
And these St. Maria Goretti dolls for my younger daughter.
Make sure to check out the shop for more options, such as coloring paper dolls, and the entire St. Gianna family!
3. Catholic Paper Puppets
Studio Senn also has Catholic paper dolls. We love her princess Saint puppets for our girls.
And her Soldier Saint puppets for our boys.
4. Catechesis of the Good Shepherd Toys
If you love Catholic paper toys, you'll love Majella Store.
This shop has role-playing Mass items. But it also has a collection of Catechesis of the Good Shepherd Printables.
Check out this adorable priest paper doll with vestments and a liturgical calendar.
Also, you might love this Good Shepherd printable, and these prayer cards with English and Latin prayer words.
Printable Prayer Space Items
Give your child something special to decorate their personal prayer space.
5. Gorgeous Easter Prints
Start with something beautiful, with Sweet Little One's ultimate collection of Easter Printables.
My girls are absolutely going to love this beautiful floral Cross!
Oooh, I might need to get them this Easter Bunny Floral Wreath printable, too!
And my son will love this St. Michael Shield printable!
6. Digital Adoration Journal
Gina from Someday Saints Designs is both a beautiful writer and artist. She has an incredible Adoration journal for kiddos.
It's available in pdf, so you can use it as an e-book, or print it for your children to doodle, write, and color in. They can use it at Adoration, or in their own private prayer time.
You can also get the Adoration journal in print if you prefer.
And better yet, check out Someday Saint's Adoration bundle, which comes with a tote bag, stickers, and prints along with the journal!
7. Artistic Journaling Kit for Your Bible.
This journaling Kit from Ingrid Blixt is the perfect thing to help you enter into a prayerful reading of your Bible during the Easter Season, as you travel the Road to Emmaus with Jesus and his Apostles.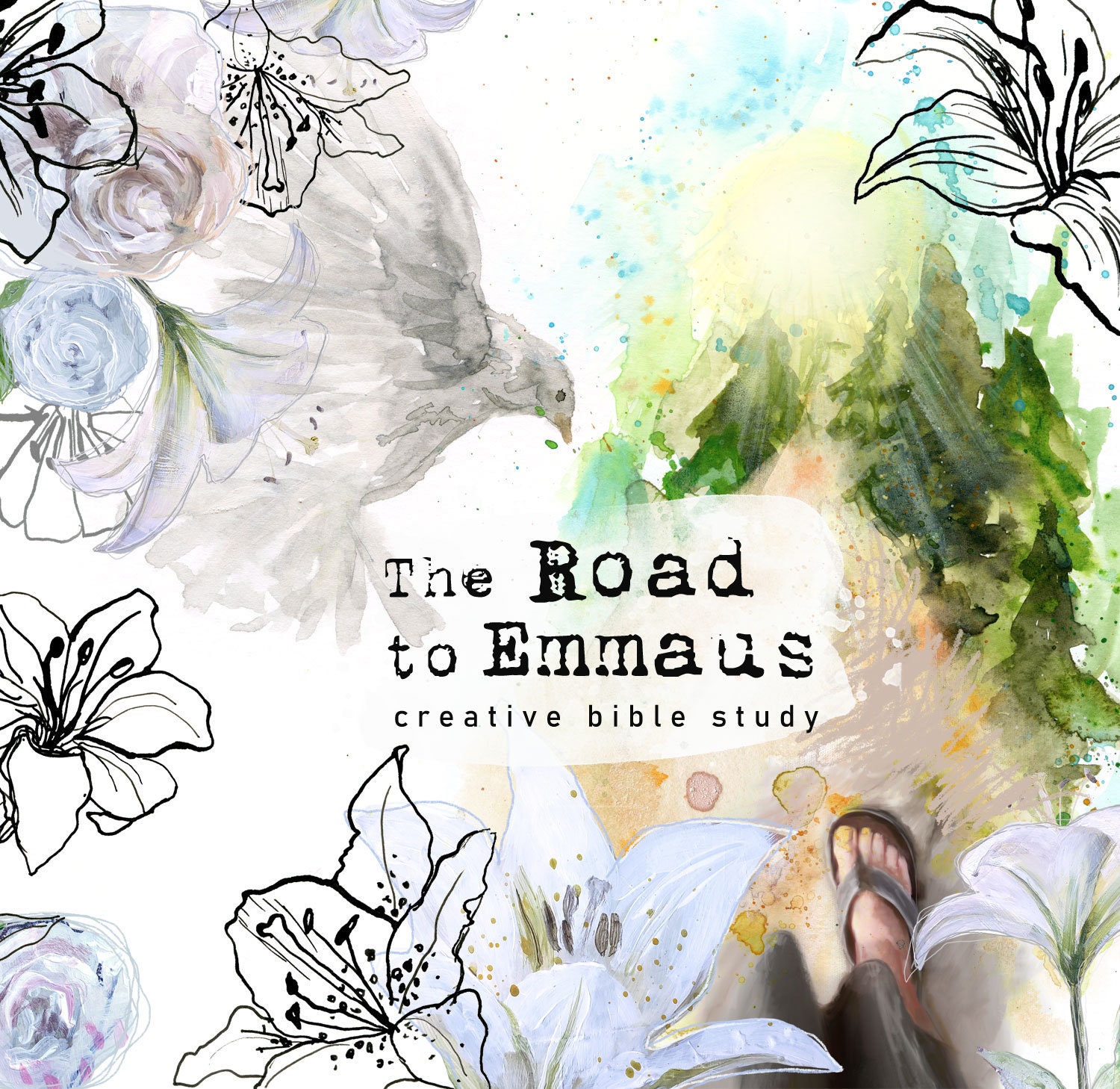 8. Joan of Arc Print
You can download this beautiful Joan of Arc print from Telos Art as a beautiful gift to print and slip in your Easter baskets.
It's a wonderful message of hope for the Easter Season!
9. Quick Prayer Printables
Amy from Prayer Wine Chocolate teamed up with Someday Saints Designs to bring you these quick and easy (and gorgeous!) prayer printables.
My favorite is the peace prayer, but check out her shop for other options.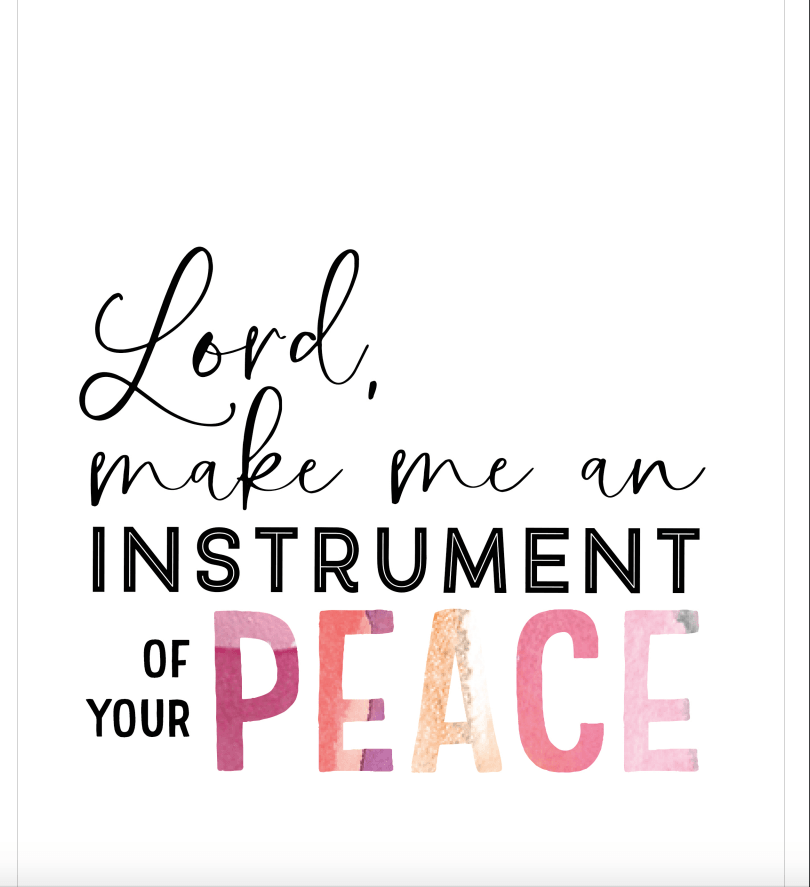 10. Christ is Risen!
Christ is risen!
Proclaim the joy of Easter throughout your home with this ancient prayer by St Hippolytus of Rome.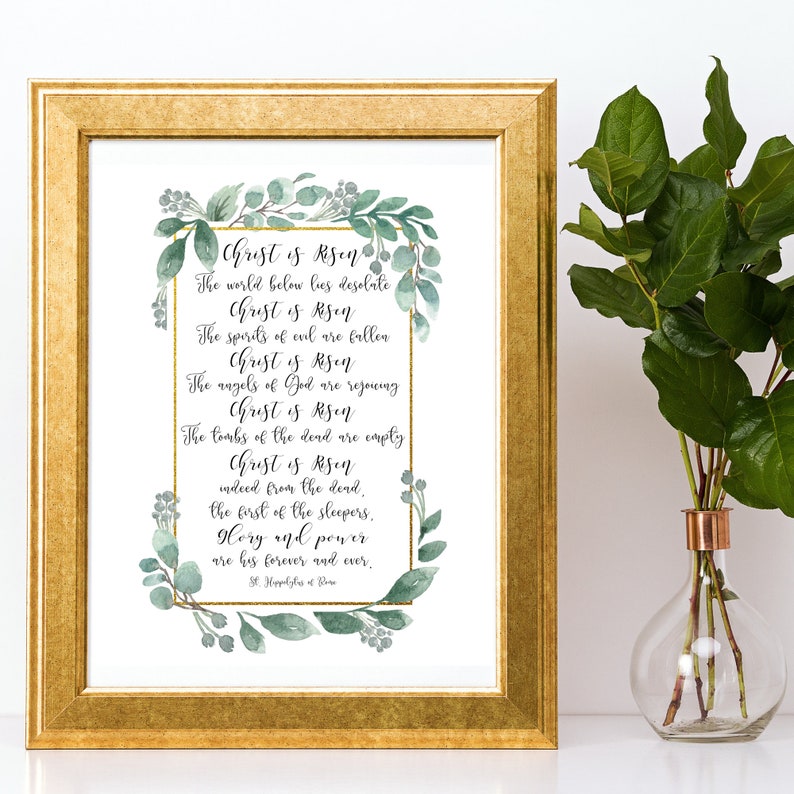 11. The Motherload of Free printables!
Pink Salt Riot has finally put together the entire collection of gorgeous freebies from their shop!
Get total, instant access to over 100 free, inspiring, Christian resources including lock screens, coloring sheets, printable art, prayers, resource packages and more!
12. Printable Saint Holy Cards
Talk to your kiddos about how Jesus' Resurrection opened up Heaven for us! Celebrate hope in heaven with these cute Saint Holy Cards.
They're printable, so you can download and print all or some (there are 72 Saints to choose from!), and add them to your Easter baskets right away.
Catholic Coloring Pages
One of my favorite things to give the kids for Easter is Catholic printable gifts. I fill their baskets with coloring pages, paper dolls, and printable crafts.
Then they spend Easter morning actively involved in faith-filled activities.
13. Stella Marigold Art
Stella Marigold Art is one of my favorite shops for Catholic printables.
Andrea's work is gorgeous and affordable.
Check out these printable coloring Holy Cards. They are absolutely stunning!
There are 108 different cards, so I'm going to print out a handful of pages and split them up between my kiddos.
14. Delphina Rose Art Coloring Books
When it comes to Catholic coloring, Rebecca of Delphina Rose Art is another one of my favorites.
Her coloring pages are rich in research and meaning. And they're intricate and gorgeous, making them a delight for kids, young and old, and even adults!
Check out her Giant Catholic Coloring Collection. They're available for instant download, and you can print as many as you need for your family.
Or check out her shop for smaller bundles of coloring pages.
15. Catholic Coloring Bundle (Free!)
As of April 2020, this Catholic Coloring Bundle from Just Love Prints is free for you! Simple download it, print it out, and slip it in your kiddos' Easter baskets.
It includes uplifting quotes from JPII, Padre Pio, the Jesus I trust in You prayer, and more!
16. Be Yourself Coloring Pages
These coloring pages from Amy of Prayer, Wine, Chocolate are the perfect addition to your tween girl's Easter basket.
13. My Little Patron Easter Egg Coloring Pages
If you like the traditional feel of Easter Eggs, My Little Patron has Catholic Easter Egg coloring pages.
You can also check out My Little Patron's:
And make sure you browse her shop in general, because she has so many amazing digital resources for Catholic kiddos!
17. Color-a-Saint from Faith and Fabric
This coloring book from Faith and Fabric features all her favorite "Sew-a-Saint" options, but on coloring pages.
Here's a cool perk: as new Sew-a-Saint dolls are added, they will be added to the book – so your one time purchase will continue to expand over time!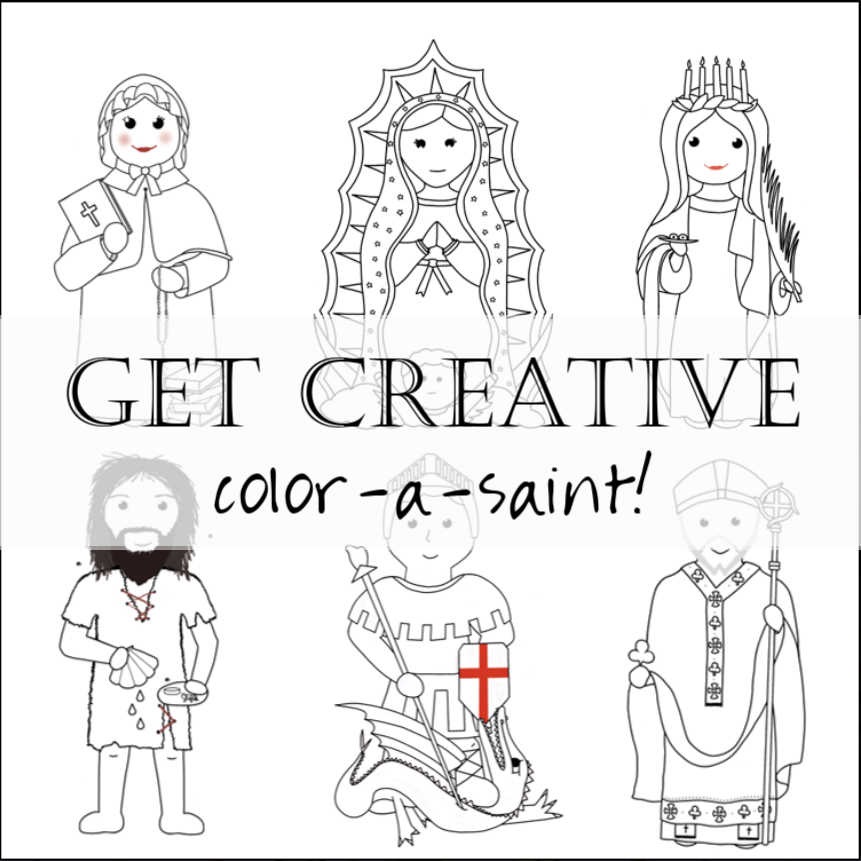 18. Liturgical Favorites Coloring Pages
Call Her Happy has a plethora of Liturgical Resources you can print and do with your kids.
Here's a fun Easter planner that goes through Holy Week and the Octave of Easter.
19. Holy Week Coloring Pages
These Holy Week Coloring pages from Kitchen House Studio would be the perfect Easter Sunday morning activity.
If your kids have popular patron Saints, check out her Saint portraits, too.
20. Spiritual Communion Prayer
Let your kids decorate their own prayer space with this coloring page Spiritual Communion prayer.
It has so many symbols and Catholic imagery to help you discuss the Faith with your children.
21. Works of Mercy Coloring Book
This downloadable coloring book will help your children learn to love the Works of Mercy.
DIY / Crafty Easter Basket Gifts
Do your kids like to craft? (Or would you like to make a homemade gift for them?)
Check out these ideas if you want to give the gift of creativity in your Ester Baskets this year.
22. Divine Mercy Embroidery
Schroeder Stitchery does beautiful embroidery work, and has finally made her first pattern available so YOU can make beautiful embroidery work, too!
Check out this pattern for a Divine Mercy Embroidery hoop.
This is something I think my older daughter will go crazy for.
23. Marian Cross Embroidery Pattern
Here's another embroidery pattern I love, from Happy Next Home Goods.
If you have a devotion to Mary (or want to grow in your devotion to her), this is the perfect craft for you.
This Marian Cross is simple, perfect for beginners, and lovely as well!
Happy Next Home Goods has many beautiful gifts as well as other beautiful embroidery patterns in her shop, including:
24. Make your own Rosary
Would you like to make a rosary for your child? That would be such a special gift of faith and love.
Check out these DIY Rosary kits from Small Things Great Love
You can customize them with your choice of twine, beads, and Crucifix.
25. Painted Wooden Easter Eggs
Annie of Annie Quigley Art is offering a free paint-your-own wooden Easter eggs tutorial!
I downloaded it, and can't wait to do it with the kids on Easter Sunday morning.
26. Wooden Block Toys Craft Sheets
Almond Rod Toys makes the most amazing wooden Saint blocks (and other Biblical story-themed sets!)
The blocks themselves are a bit pricey, but she offers the option to make them yourself.
You can download her wooden block craft sheets, print them off, and do your own Catholic crafts – whether you decide to make blocks, or do something different with them!
Choose from:
27. Make Your Own Holy Tower Tumble Game
Arma Dei / Equipping Catholic Families offers so many printable/digital resources for liturgical living.
One DIY idea you might like is their Tower Tumble kit. Learn things like: the 7 Sacraments, the 4 Marks of the Church, and more with this fun and holy game.
28. Crochet the Holy Family Hearts!
Do you love to crochet?
Add a pop of color to your prayer space, or just beautify your home with these patterns for all THREE Holy Family Hearts wall hangings. Featuring common symbolism for Jesus, Mary, and Joseph, these patterns can be made as a complete set of three, or just make your favorite!
This pattern requires knowledge of common crochet stitches as well as sewing basics to complete.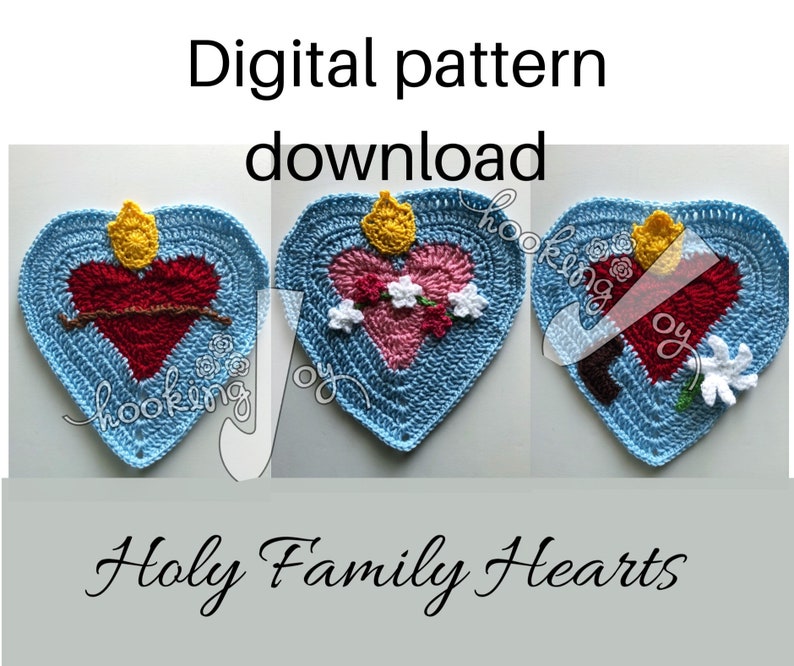 29. Adorable Easter Chicks
Here's an adorable quilt pattern for Easter Chicks. This is such a joyful and sunny Easter project from Faith and Fabric.
Classic Catholic Easter Basket Fillers
Nothing's better than small goodies on Easter morning! I also wanted to give you ideas for a little something special you can buy if you prefer to give a physical gift on Easter morning.
Check these Catholic shops out for amazing ideas.
30. Catholic Stickers
There are so many amazing options for Catholic stickers. Here are a few of my faves you and your kids will love!
Saints Sticker Bundle from Kindred Forest Co. It has all your favorite Saints, including JPII, St. Michael, Padre Pio, St. Faustina, St. Gianna, and so many more!
Someday Saints Designs has sticker bundles for you, too. Pictured below is "Hearts and Hope" but check out her shop for Saint quote stickers, too!
With a Joyful Heart is another favorite source for Catholic stickers. I particularly love her floral themed medals,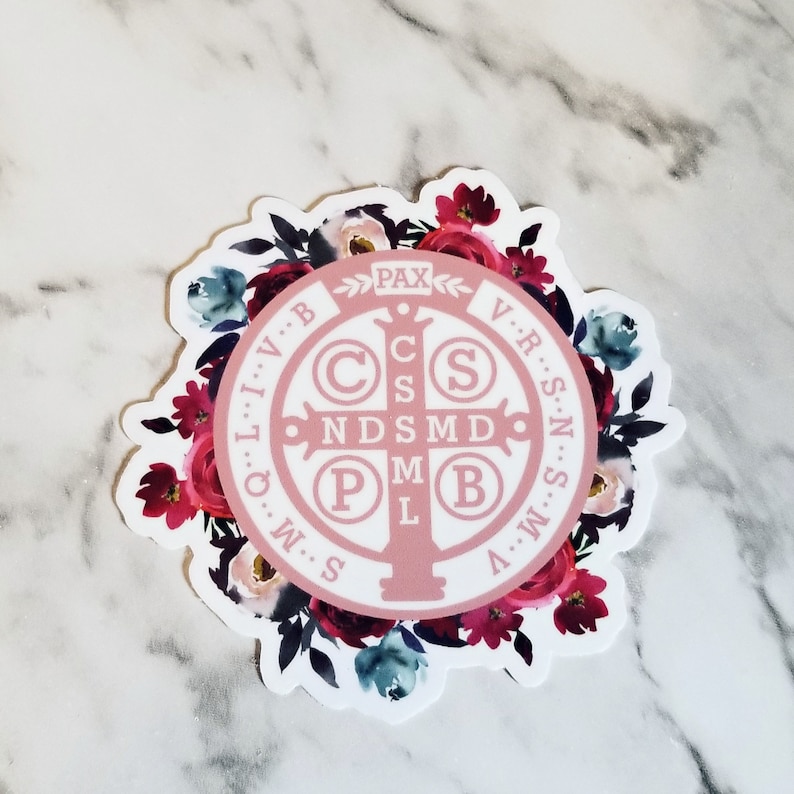 31. Specialty Easter Gifts
These gifts might be just the thing you're looking for to speak to the heart of one of your kiddos this Easter.
Check out this St. Teresa of Calcutta (and other Saints) Sacrifice beads from Happy Nest Home Goods.
Do you have a child who could use some encouragement from their favorite Saint to grow closer to Jesus?
Saint Sacrifice Beads might just be the thing they need.
Do you have a new baby in the family?
My Catholic Keepsake will help you collect and store your memories of this precious time with your little one.
If your kids have a favorite Saint or a patron Saint, check out these Patron Saint Portraits. (Physical prints only – not available digitally at this time, sorry!!)
You can find JPII, Therese, Gianna, Josemaria, Fulton Sheen, and more.
They are perfect decor for your children's rooms, or their own personal prayer spaces.
Happy Easter!
I pray that these resources help you have an easy and joyful Easter with your kiddos.
May the joy of the Risen Christ reign in your life!
STAY IN TOUCH:
Join the To Jesus, Sincerely mailing list to stay in touch, and grow in the Faith together.